Complete Critical Cleaning Package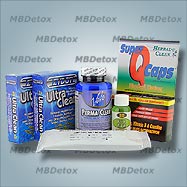 The Complete Critical Cleaning Package is a fast acting product set designed to help you cover any test type on short notice.
In today's job market, drug testing can be a mysterious intrusion. Pre-employment drug screens and random drug tests can come on short notice and you won't always know what type of test you will be presented with. This forces you to prepare for every contingency.
The Complete Critical Cleaning Package is a fast acting product set designed to help you cover any test type on short notice. Urine, saliva, and hair are covered in this set with Perma Clean providing beneficial effects for blood as well. A 5-panel test kit rounds out this package, allowing you to test your urine for any of the standard drugs of abuse. An enormous value, the Complete Critical Cleaning is valued at $167.00 if each product is purchased individually.
Kit Items:
Urine: 1 Super Quick Caps
A fast acting Urine Detox Solution that dramatically improves urinalysis results for a short period of time. Highly effective, this product has excellent customer feed back, simply use one to two hours before your test.
Saliva: 1 Ultra Wash
An instant saliva mask that is effective for approximately 15 to 30 minutes after use. Used properly, this product can mean the difference between gainful employment or prolonged unemployment.
Hair: 2 Zydot Ultra Clean
Our most popular shampoo designed to strip chemical residue from your hair. Use this to reduce the appearance of prescription or illicit drugs. Individuals with longer hair or a heavy usage history will need at least 2 packs for best results. Those with short hair will simply benefit from the extra effectiveness of using the shampoo back to back. While the effects of this shampoo do not wear off, your hair will continue to grow, making the results temporary. Be sure to use this on the day you intend to be tested.
Blood: 1 Perma Clean
Our most popular dietary supplement designed to help remove drug metabolites from your blood by improving liver function; Perma Clean is actually at 15-day program in and of itself. While you may not have time to complete the entire bottle, when faced with the option of doing nothing for your blood or starting a longer program, we always suggest you error on the side of caution.
Self-Test: 1 Five Panel Home Test Kit
This multi parameter test kit screens urine for amphetamines, methamphetamines, cocaine, opiates, and THC at the standard federal drugs of abuse screening levels.
Directions:
Each product includes its own easy to follow directions. Remember to stay well hydrated on a daily basis and abstain from use of unwanted substances for at least 48 hours prior to a drug test.