FAST Opiate (HER, MOR) DETOX KIT for people under 200 lb.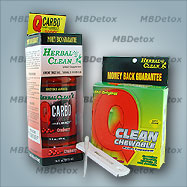 The Opiate (HER, MOR) Detoxification Kit includes a 16oz. bottle of QCarbo Easy Cleanser, one QClean Chewable Detox Supplement, and one opiate test device.
The Fast Opiate & Morphine Detox Program for persons under 200 pounds includes one bottle of QCarbo Easy Cleanser, one QClean Chewable Supplement, and one at home test device.
SUGGESTED USE
Step 1) On test day, two hours before submitting your urine sample, drink the entire bottle of QCarbo Easy Cleanser
Step 2) Wait 20 minutes and then refill the empty bottle with water and drink again.
Step 3) Urinate several times and after 40 more minutes (1 hour after drinking QCarbo Easy Cleanser) use the included self-test kit. If results are passing (2 lines) proceed to your test immediately.
Step 4) If self-test results are failing (one line) chew the QClean Tablet with 32 ounces of water.
Step 5) Wait an additional 1 hour and be sure to urinate at least 2 more times before submitting a urine sample
For Best Results!!!
Avoid any unnecessary medications and toxins for at least 48 hours. This includes alcohol, tobacco, and any other drug.
On the day of the deadline, eat and drink normally. Do not drink excessive amounts of water except as directed when using your detox product.
If possible, schedule testing for the afternoon and urinate 3-4 times prior to deadline.
Results are temporary, lasting 3 to 5 hours after use. Plan your use accordingly
Warning: Consult your physician before using this product if you are pregnant or breast feeding.
10% savings when compared to purchasing each product individually.
You may also need these products